Events/Meetings
Nottingham Prints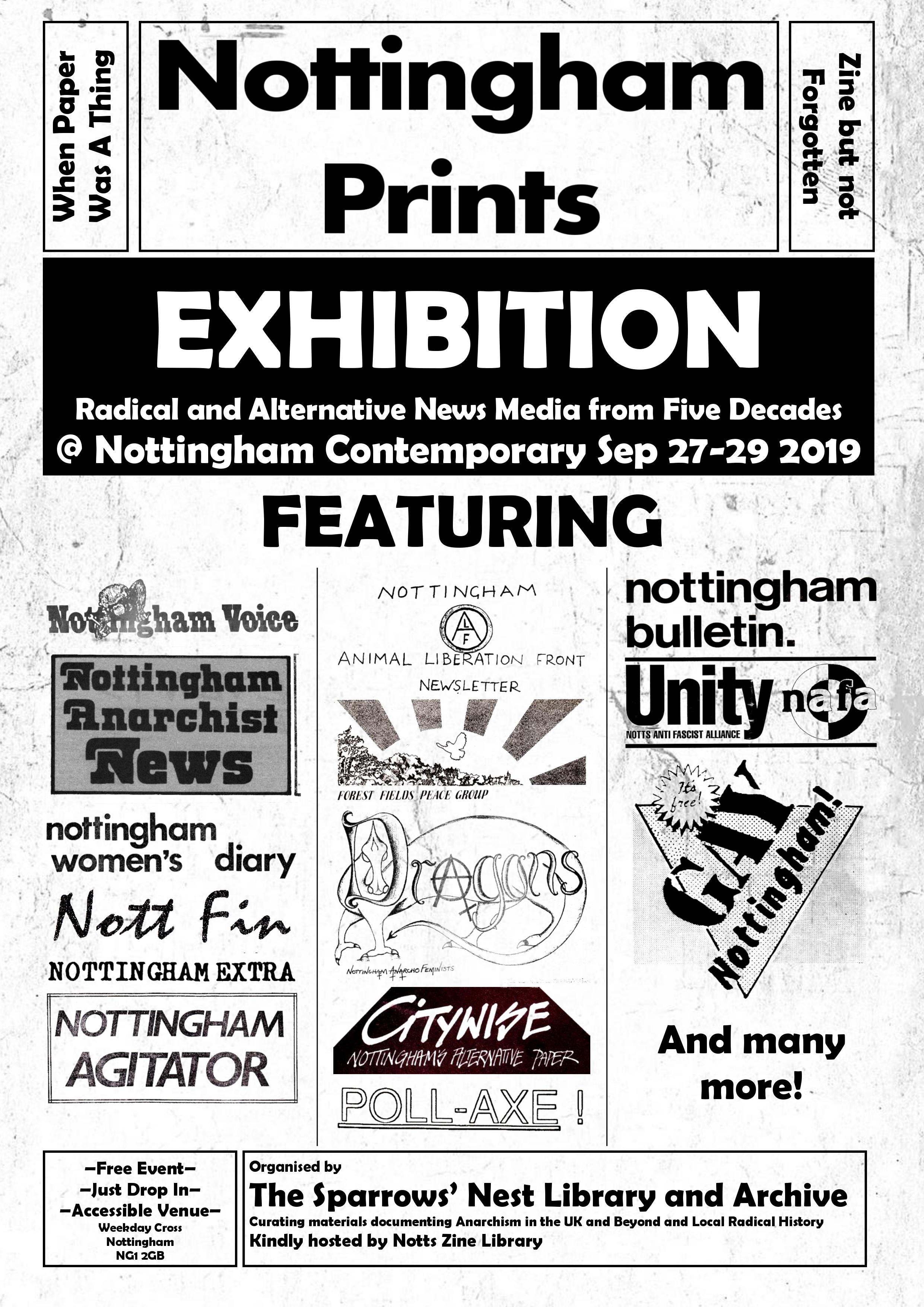 Further details TBC shortly!
Many thanks to Notts Zine Library and Nottingham Contemporary for hosting the event.
To get an idea what will be featured in the exhibition, please see our feature Spotlight on: Nottingham's Radical and Alternative News Media.

Were you involved in the production or distribution of these or any other titles?
Do you have any stories or anecdotes you would like to share in relation to these or similar publications?
Do you have a box or a folder of similar materials in your attic (beneath your bed/in the shed) and would consider to either donate them to us or loan them to us for digitisation?
If so, we would very much like to hear from you (please note that we usually respond to emails rather fast - if you do not have an answer after three days, please check your spam folder!).
If you want to put on an event and are looking for a venue, please do not hesitate to contact us, we might well be able to accommodate you. We have often provided the space for talks, book launches etc., especially to groups and individuals who struggle to pay for rooms elsewhere. The Sparrows' Nest can accommodate groups of up to 25 people, the use of multimedia equipment can be arranged if needed.
There have been many events at the Nest over the years and this list is by no means comprehensive. Other subjects covered included e.g. Anarchism in post-Soviet Russia and Eastern Europe, Anti-Fascism in Greece, the 140th Anniversary of the Anti-Authoritarian International, Anarchist writers in the nineteenth century and the strength of community organisation and solidarity actions.
Sadly many reports on these events went offline with the old Notts Indymedia website (thanks for the local Indymedia collective who have kept this once vital resource going for so many years!).
From the Pistols to the Miners' Strike: Fanzines of the Anarcho-Punk era, 1976 to 1984
In the 1970s, DIY print media met Punk and Anarchism, and the Anarcho-Punk Fanzine was born. The print quality may have been patchy, but the passion and commitment are undeniable. This hands-on workshop explores the politics and the music through zines and a punk soundtrack, courtesy of The Sparrows' Nest Library and Archive, in corporation with the Notts Zine Library.
Cheese for nought!
Organised by People's Histreh. An evening with wine, cheese and a talk about riots. This was the launch event for the group's pamphlet Damn your charity… about the 1766 Great Cheese Riot.
A City of Light: Socialism, Chartism and Co-operation – Nottingham 1844
Launch event for Chris Richardson's excellent book. Please also see this blog for details. The event was part of a series of events celebrating 150 years of Co-operation in Nottinghamshire.
Civil War and Revolution: Anarchism in Spain
A day featuring talks and an exhibition about anarchism in Spain, organised with the SolFed and People's Histreh. It explored the role of the anarchists in the civil war and the social revolution, in particular the CNT-IWA. This tied in with a programme of events regarding the commemoration of the Spanish Civil War, organised by various local groups, also including a screening of Ken Loach's Land and Freedom at Broadway Cinema, sponsored by the Sparrows' Nest and People's Histreh.
The Digital Library - What's in @?
A talk held at various conferences etc. Showcasing the content of the Digital Library and the research opportunities it contains. Please also see the presentation slides used at these talks (please note that various bits of information in that presentation are now outdated).
A Few Words on Poachers
A talk by Rosemary Russell, organised by People's Histreh, about poachers and poaching in the East Midlands in the early nineteenth century. People's Histreh made an audio recording of the talk and uploaded it to Valentine Yarnspinner's Youtube channel.
Fighting and beating the Poll Tax
Commemorating the twentieth anniversary of local councillors being surprised with custard pies whilst trying to set local rates. An evening featuring an exhibition of materials about the local struggle against the Poll Tax, talks, poetry, etc. A lot of old friends who had lost touch were reunited. A very good night for all.
La Commune (Paris, 1871)
Organised by People's Histreh. A free film screening of Peter Watkins' film.
Rethinking Luddism in Nottinghamshire
A talk by Matthew Roberts, organised by People's Histreh. A reassessment of the Luddites in the early nineteenth century. People's Histreh made an audio recording of the talk and uploaded it to Valentine Yarnspinner's Youtube channel
Strikes, Nukes & Overdue Subscription Fees
One of our talks, though not held at the Nest, but at the Nottingham Mechanics, the London Anarchist Bookfair and elsewhere. It focussed on the wonderful records in Ron's Collection (named after the person who rescued and donated the documents), one of the many different archival collections held at the Sparrow's Nest. Ron's Collection primarily contains internal documents such as letters or conference materials, recording activities of the Anarchist Federation of Britain (AFB), which subsequently became the Syndicalist Workers Federation (SWF). This collection was subsequently supplemented when the Solidarity Federation entrusted us with another sizeable archival collection, also containing numerous newspapers and pamphlets which tie in with Ron's Collection. Together these collections provide researchers with fascinating opportunities as they contain many unique records documenting the activities of syndicalists and other radicals from Britain and around the world during the period 1944-64. Most of Ron's Collection is available in our Digital Library.
The Nottingham Spirit
A talk by Ray Gosling.
The Third Revolution? Peasant and worker resistance to the Bolshevik government
A talk by Nick Heath.