Welcome to The Sparrows' Nest, Nottingham
You are invited and most encouraged to go to the wonderful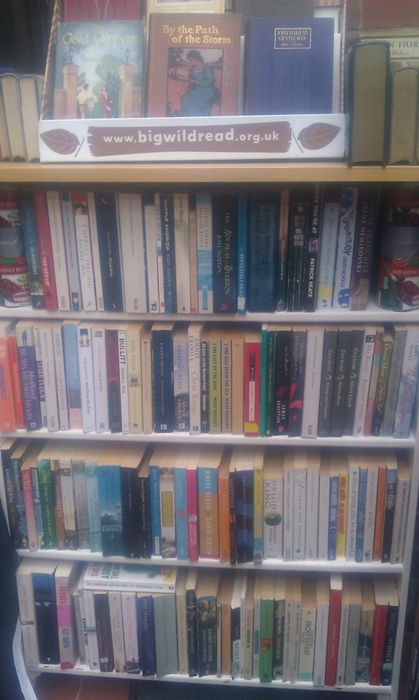 EX-LIBRIS 7th ANNUAL BOOK SALE WEEKEND 2013 - FRIDAY 13th-SUNDAY 15th SEPTEMBER. CARLTON, GEDLING, NOTTINGHAM.
Discarded books rescued and sold for charity. Members of the Federation of Masked Booksellers will welcome you. More photos and flyer available at: https://nottingham.indymedia.org/events/5780
In aid of local charities: NNRF Destitution Fund & Hayward House (Nottingham Hospitals Charity).
Venue: 16 Vernon Avenue, Carlton, Nottingham. NG4 3FX. Map
Fri Sept 13th 11–7pm
Sat Sept 14th 11–7pm
Sun Sept 15th 11–7pm
Very low prices. A wide selection of fiction and non-fiction books from only 10p; CDs, DVDs, pictures, etc; raffle.
Facebook photo page: https://www.facebook.com/media/set/?set=a.727039547313396.1073741834.282980251719330&type=3
Welcome to the first of reports we are aiming to bring you each month, so that you can see what we've been up to and what we have been buying for the library.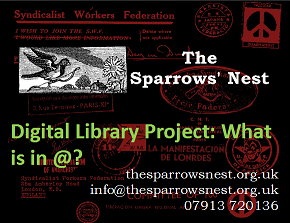 Report from a Sparrows' Nest trip abroad last weekend...
The Balkan Anarchist Bookfair (Ljubljana, Slovenia) 24-26 May 2013 was hosted by the Anarchist Federation's sister federation in the International of Anarchist Federations, the Federation for Anarchist Organising (of Slovenia). The FAO and others run the Ljubljana Infoshop within the famous Metelkova distric of the city.
The Sparrows' Nest  'What's in A' presentation was done as it was at the Sheffield Anarchist Bookfair as a slideshow (see link below) and accompanying talk plus display of selected material starting with the letter A from the Nest's archive boxes. These have been digitised as part of our ongoing Digital Libary Project. Around a dozen people came from the many participants of the bookfair meeting schedule, which was OK as it was right at the start.
It felt a bit risky taking some of our precious materials so far from home, but in fact we should have taken more. People were enthralled, especially by materials relating to Ireland and by Anti-Student magazine, and took very good care of the materials as they handled them. There was lots of enthusiasm for our project and people took leaflets readily. We met people from various other library initiatives including Eutopia (Thessalonki & Athens, Greece) and Schwarzes Radieschen (Black Radish - Graz, Austria).

The Nest bought some foreign language materials and swapped copies of the AF's Organise! for even more. We got an invite to the Paris Anarchist Bookfair 2014 to do another talk. It is being organised by the French-speaking Anarchist Federation, another sister organisation of the AF. Active Distribution from London were also there and English-language materials sold well as they always do in the Balkans since this is the common language between ex-Yugoslav states.
See the presentation slides: http://thesparrowsnest.org.uk/collections/public_archive/slides_digital_library_project_what_is_in_box_a.pdf
Read a report about the Balkans Anarchist Bookfair by the anarchist federation and links to joint statements from the bookfair participants, a radioshow and video: Anarchist Federation report from the 10 year Balkan Anarchist Bookfair, Ljubljana, Slovenia on 24-26 May 2013
Below is the latest list of special collections and scanned documents. Please note that other curated collections (including Colin's, Chris', Dave's and Nick's), not online but available at the Sparrows' Nest, can be found itemised in sections within the main catalogue.
For more detailed information regarding the individual collections, please see the respective pages:
Public Achive (featuring loads of new stuff)
Ron's Collection - Syndicalist materials 1940s-1960s
Pinch of Salt Archive (all new section!)
If you have any materials you would like to donate or to be held in the library or archive, please contact us! Donations to help us build the collections are very welcome. Please visit our donations page and see our acceptance policy.
Some of our greatest treasures came from apparently random heaps of smelly paper. So if you have access to materials, be it pamphlets, bulletines, zines, papers, letters, etc. please DO NOT throw them out, but let us know!

We are always striving to make this Digital Library as accurate and user-friendly as possible. However we are limited by software, IT-know how, etc. If there are any people out there who could assist us in putting together a more user-friendly database, please get in touch!