Welcome to The Sparrows' Nest, Nottingham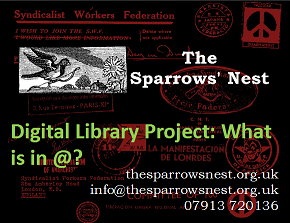 Report from a Sparrows' Nest trip abroad last weekend...
The Balkan Anarchist Bookfair (Ljubljana, Slovenia) 24-26 May 2013 was hosted by the Anarchist Federation's sister federation in the International of Anarchist Federations, the Federation for Anarchist Organising (of Slovenia). The FAO and others run the Ljubljana Infoshop within the famous Metelkova distric of the city.
The Sparrows' Nest  'What's in A' presentation was done as it was at the Sheffield Anarchist Bookfair as a slideshow (see link below) and accompanying talk plus display of selected material starting with the letter A from the Nest's archive boxes. These have been digitised as part of our ongoing Digital Libary Project. Around a dozen people came from the many participants of the bookfair meeting schedule, which was OK as it was right at the start.
It felt a bit risky taking some of our precious materials so far from home, but in fact we should have taken more. People were enthralled, especially by materials relating to Ireland and by Anti-Student magazine, and took very good care of the materials as they handled them. There was lots of enthusiasm for our project and people took leaflets readily. We met people from various other library initiatives including Eutopia (Thessalonki & Athens, Greece) and Schwarzes Radieschen (Black Radish - Graz, Austria).

The Nest bought some foreign language materials and swapped copies of the AF's Organise! for even more. We got an invite to the Paris Anarchist Bookfair 2014 to do another talk. It is being organised by the French-speaking Anarchist Federation, another sister organisation of the AF. Active Distribution from London were also there and English-language materials sold well as they always do in the Balkans since this is the common language between ex-Yugoslav states.
See the presentation slides: http://thesparrowsnest.org.uk/collections/public_archive/slides_digital_library_project_what_is_in_box_a.pdf
Read a report about the Balkans Anarchist Bookfair by the anarchist federation and links to joint statements from the bookfair participants, a radioshow and video: Anarchist Federation report from the 10 year Balkan Anarchist Bookfair, Ljubljana, Slovenia on 24-26 May 2013
Below is the latest list of special collections and scanned documents. Please note that other curated collections (including Colin's, Chris', Dave's and Nick's), not online but available at the Sparrows' Nest, can be found itemised in sections within the main catalogue.
For more detailed information regarding the individual collections, please see the respective pages:
Public Achive (featuring loads of new stuff)
Ron's Collection - Syndicalist materials 1940s-1960s
Pinch of Salt Archive (all new section!)
If you have any materials you would like to donate or to be held in the library or archive, please contact us! Donations to help us build the collections are very welcome. Please visit our donations page and see our acceptance policy.
Some of our greatest treasures came from apparently random heaps of smelly paper. So if you have access to materials, be it pamphlets, bulletines, zines, papers, letters, etc. please DO NOT throw them out, but let us know!

We are always striving to make this Digital Library as accurate and user-friendly as possible. However we are limited by software, IT-know how, etc. If there are any people out there who could assist us in putting together a more user-friendly database, please get in touch!
We have now passed 5 years since The Sparrows' Nest opening event in December 2008. Since then we've been cataloguing continuously. A big thanks to everyone who has helped with this! Thanks of course to all those who have donated to the Nest.

Online Catalogue: Take a look at our most recently updated Online catalogue with searchable keywords: ANARCHIST BOOKS/PAMPHLETS - note this is a table of all content with fairly large file size (7MB) so wait to load before searching. Use the search facility on your web browser using keywords or parts of title or author name. Alternatively, Download/print catalogues ordered by author or by title (no keywords, around 700kB filesize). These are PDFs and work well on a smartphone too! Last updated 10th-January-2014.
Digital Libary of scanned publications:  for our newest project we are a currently making our way through the content of The Sparrows' Nest Public Archive and scanning this in as we go. We have previously scanned in the Soldarity Federation archive and the personal archive of one of its founding members, Ron and this has been converted into PDF format. In addition we already have some scans of miscellaneous material such as unique local anti-Poll Tax campaigning newsletters, leaflets & press-cuttings. Select the Digital Library menu item for all this. Originals of digitised material are also available but please note many of these documents are fragile and are kept in acid-free and lignin-free archive boxes and require special handling.

Contents of the existing library and archive are, briefly, as follows:
The Sparrows' Nest book collection. Books and pamphlets by and about anarchists, and directly influencing or influenced by Anarchist thought and practice. We also have a special social history section on social history covering specific struggles and memoirs of activists, especially of the Midlands region. It has an oversize shelf too.
The Sparrows' Nest public archive. Papers and other historical anarchist materials.
The Sparrows' Nest periodicals collection. Current and back-issues of papers and magazine still very much alive and kicking.
The Sparrows' Nest art collection. Novels, poems and art by and about anarchists.

Personal archives already in custody. A local anarchist's collection; International and UK Anarchist organisations; A local labour activist's collection.
General Left's collection. Non-anarchist materials that Anarchists also read.
Posters, stickers, badges, t-shirts, banners, videos, music. We are building up a fine collection of these too.