Welcome to The Sparrows' Nest, Nottingham
The following is added to complement the UK speaking tour of Lorenzo Kom'boa Ervin & JoNina Abron Ervin. Details of the three tour meetings in Nottingham can be found below.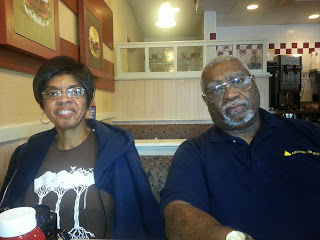 Here we offer some texts held in the Sparrows' Nest archive by Lorenzo Kom'boa Ervin, who will be in Nottingham from the 8th-11th October with along with the author and activist JoNina Abron Ervin. They are both active in the Memphis Black Autonomy Federation, and on the national board of the Black Autonomy Federation of North America, and Lorenzo is an anarchist of long-standing.

The brief pamphlet Towards a New Black Autonomous Politics (General Strike, Insurrection Series) is a brief but crucial introduction to Lorenzo's ideas whilst  working with Black Autonomy International. If you don't read anything else, read this! It is a call to arms and towards autonomy for Black anarchists, who are 'oppressed both as a distinct people and as workers'. He rejects both white domination of Black anarchists on the one hand, and black nationalism on the other, and identifies 'racism' as a 'class doctrine'. As such, it challenged, and still challenges, some dominant strands of the anarchist movement, and relates closely to discussions of 'privilege theory' and 'intersectionality' taking place within and around the Anarchist Federation at present. If someone can help the Nest out with a publication date for this pamphlet, we would be grateful.

Lorenzo Kom'boa Ervin talks to Organise! about Black Autonomy is an interview which appeared in the Anarchist Federation's Organise! magazine, issue 45, summer 1997. It addresses similar subject matter and discusses how Lorenzo's magazine Black Autonomy was dismissed by many (white) North American anarchists as somehow 'separatist'. That misreading of the politics outlined by Lorenzo, and the interviewers relate his insights to workplace struggles to changes labour relations in the UK in the 1990s.

The Nest also holds two editions of Anarchism and the Black Revolution. The one pictured here is a 1993 revision (Mid-Atlantic Anarchist Publishing Collective - Philadelphia-Paterson-Chattanoga) of the 1979 original. The other is a 1994 edition (Monkeywrench Press/The Worker Self-Education Foundation of the Industrial Workers of the World – Philadelphia).  Both are too tightly bound for us to copy and provide you with a pdf here. But you are welcome to come and read this vital text for anarchist anti-racism. Lorenzo has published a new edition this year.

Attack on Black Liberation Radio is taken from Seizing the Airwaves: A free radio Handbook (AK Press, 1998) and discusses the fate of a free radio station set up by Mbanna Kantako in Springfield, Illinois, in 1987.
Finally, The Progressive Plantation: racism inside radical social change organisations challenges white domination of organisations including anarchist ones.
You can find related material elsewhere online including an interview from a previous tour and full texts on libcom.org

JoNina and Lorenzo will be holding three meetings in association with Nottingham Anarchists in various contexts.

Tuesday 8th October. 7pm until 9:30pm Hyson Green Youth Centre, Terrace Street, NG7 6ER. Meeting with Lorenzo Kom'boa Ervin. Lorenzo is the author of "Anarchism and the Black Revolution", "The Progressive Plantation", and "Black Power, Black Autonomy" is an ex-civil rights and Black Panther Party member. Lorenzo has been an anarchist for over 40 years. He will speak on Anti-Racist resistance to the rise in the far right. Open to all.

Wednesday 9th October we have asked them to run a closed workshop about internal racism, for activists working against racism, hierarchy and political authority. Come if you would like to take steps towards addressing this issue within the anarchist/anti-authoritarian movement, with practical outcomes for our engagement in wider community struggles. It will be a challenging workshop, but an important one. Venue: Sumac Centre, 7.30 pm.

Thursday 10th October JoNina Ervin, author of "Driven by the Movement: Activists of the Black Power Era", will speak about her interviews with some 20 Black Power activists as well as about her activity in the Black Panther Party in the 1970's. Venue: 5.00pm-7.00pm. Room A 41  The Sir Clive Granger Building, University Park, University of Nottingham, NG7 2RD. Open to all.
For more information contact 07860785970 and takebackcontrol [at] riseup.net


You are invited and most encouraged to go to the wonderful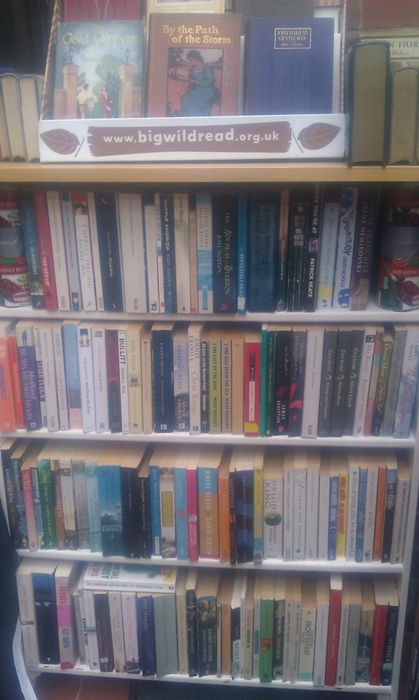 EX-LIBRIS 7th ANNUAL BOOK SALE WEEKEND 2013 - FRIDAY 13th-SUNDAY 15th SEPTEMBER. CARLTON, GEDLING, NOTTINGHAM.
Discarded books rescued and sold for charity. Members of the Federation of Masked Booksellers will welcome you. More photos and flyer available at: https://nottingham.indymedia.org/events/5780
In aid of local charities: NNRF Destitution Fund & Hayward House (Nottingham Hospitals Charity).
Venue: 16 Vernon Avenue, Carlton, Nottingham. NG4 3FX. Map
Fri Sept 13th 11–7pm
Sat Sept 14th 11–7pm
Sun Sept 15th 11–7pm
Very low prices. A wide selection of fiction and non-fiction books from only 10p; CDs, DVDs, pictures, etc; raffle.
Facebook photo page: https://www.facebook.com/media/set/?set=a.727039547313396.1073741834.282980251719330&type=3
Welcome to the first of reports we are aiming to bring you each month, so that you can see what we've been up to and what we have been buying for the library.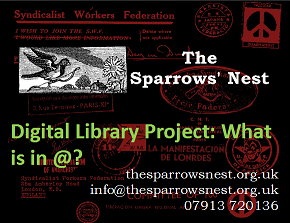 Report from a Sparrows' Nest trip abroad last weekend...
The Balkan Anarchist Bookfair (Ljubljana, Slovenia) 24-26 May 2013 was hosted by the Anarchist Federation's sister federation in the International of Anarchist Federations, the Federation for Anarchist Organising (of Slovenia). The FAO and others run the Ljubljana Infoshop within the famous Metelkova distric of the city.
The Sparrows' Nest  'What's in A' presentation was done as it was at the Sheffield Anarchist Bookfair as a slideshow (see link below) and accompanying talk plus display of selected material starting with the letter A from the Nest's archive boxes. These have been digitised as part of our ongoing Digital Libary Project. Around a dozen people came from the many participants of the bookfair meeting schedule, which was OK as it was right at the start.
It felt a bit risky taking some of our precious materials so far from home, but in fact we should have taken more. People were enthralled, especially by materials relating to Ireland and by Anti-Student magazine, and took very good care of the materials as they handled them. There was lots of enthusiasm for our project and people took leaflets readily. We met people from various other library initiatives including Eutopia (Thessalonki & Athens, Greece) and Schwarzes Radieschen (Black Radish - Graz, Austria).

The Nest bought some foreign language materials and swapped copies of the AF's Organise! for even more. We got an invite to the Paris Anarchist Bookfair 2014 to do another talk. It is being organised by the French-speaking Anarchist Federation, another sister organisation of the AF. Active Distribution from London were also there and English-language materials sold well as they always do in the Balkans since this is the common language between ex-Yugoslav states.
See the presentation slides: http://thesparrowsnest.org.uk/collections/public_archive/slides_digital_library_project_what_is_in_box_a.pdf
Read a report about the Balkans Anarchist Bookfair by the anarchist federation and links to joint statements from the bookfair participants, a radioshow and video: Anarchist Federation report from the 10 year Balkan Anarchist Bookfair, Ljubljana, Slovenia on 24-26 May 2013