This time we are putting our spotlight on some of the many independent local newspapers, bulletins, etc. that were produced in Nottingham over the last five decades.
Nottingham has long had a rich tradition of independent and radical publishing. Please see below for digitised issues of a few of those titles, providing us with the other first draft of history.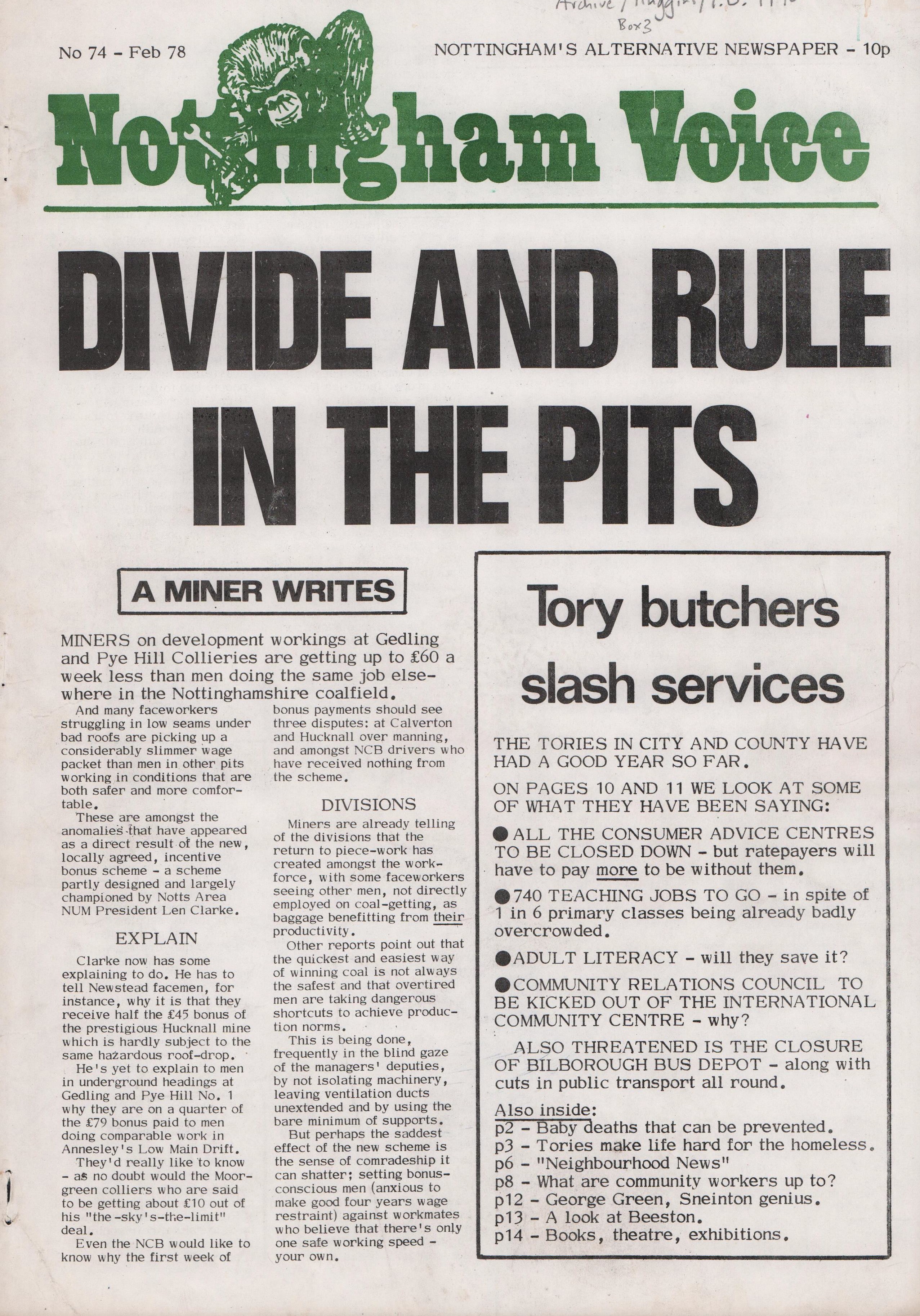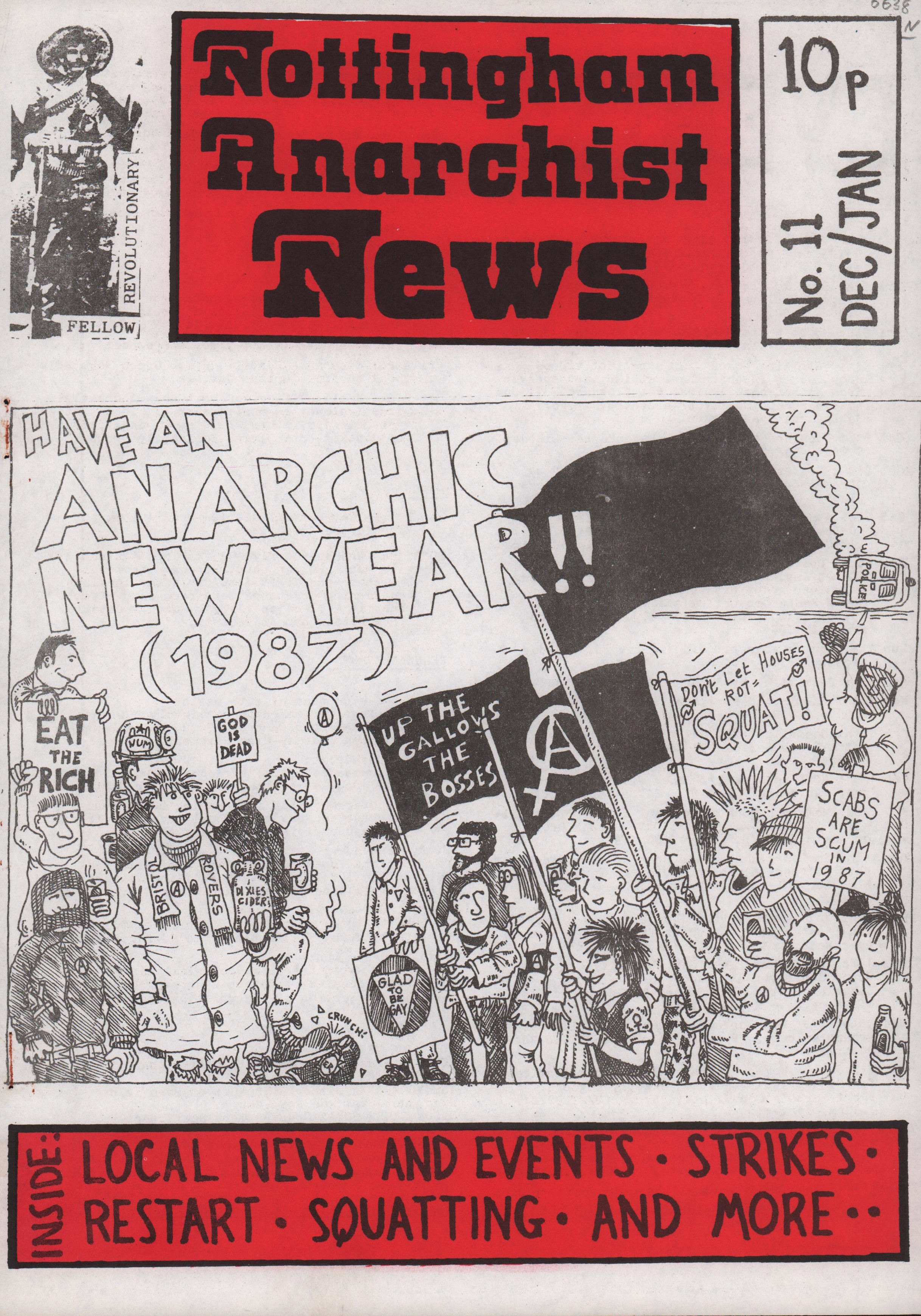 Please note that another Spotlight on: ... feature already lists the many issues of local LGBTQ+ materials we have in our Digital Library, with more to be added soon.
Please also note this post remains very much a work in progress, put together in preparation of our upcoming exhibition at the Nottingham Contemporary (Sep 27-29th 2019). Further titles and additional issues will be added over the next couple of months, so make sure to keep an eye on this page.
Were you involved in the production or distribution of these or any other titles?
Do you have any stories or anecdotes you would like to share in relation to these or similar publications?
Do you have a box or a folder of similar materials in your attic (beneath your bed/in the shed) and would consider to either donate them to us or loan them to us for digitisation?
If so, we would very much like to hear from you (please note that we usually respond to emails rather fast - if you did not have an answer after three days, please check your spam folder!).
More content to be added soon, until then have fun exploring the materials below!
Forest Fields Peace Group Newsletter
Grass Roots & Nottingham Voice
Newsletter of the Nottingham Animal Liberation Front
Citywise
Citywise #01 (1983)
Citywise #02 (1984)
Citywise #03 (1984)
Citywise #04 (1984)
Citywise #05 (1984)
Citywise #06 (1984)
Citywise #07 (1984)
Citywise #08 (1984)
Citywise #09 (1985)
Citywise #10 (1985)
Dragons
Dragons #01 (1985)
Dragons #02 (1985)
Flux
Flux #01 (1990)
Flux #02 (1991)
Flux #03 (1991)
Flux #04 (1992)
Flux #05 (1992)
Flux #06 (1993)
Flux #07 (1994)
Forest Fields Peace Group Newsletter
Forest Fields Peace Group Newsletter Vol:03 #01 (1983)
Forest Fields Peace Group Newsletter Vol:03 #02 (1983)
Forest Fields Peace Group Newsletter Vol:03 #03 (1983)
Forest Fields Peace Group Newsletter Vol:03 #04 (1984)
Forest Fields Peace Group Newsletter Vol:03 #07 (1984)
Forest Fields Peace Group Newsletter Vol:03 #09 (1984)
Forest Fields Peace Group Newsletter Vol:03 #11 (1985)
Forest Fields Peace Group Newsletter Vol:04 #03 (1985)
Forest Fields Peace Group Newsletter Vol:04 #04 (1985)
Forest Fields Peace Group Newsletter Vol:04 #09 (1985)
Forest Fields Peace Group Newsletter Vol:04 #10 (1986)
Forest Fields Peace Group Newsletter Vol:05 #03 (1986)
Forest Fields Peace Group Newsletter Vol:05 #04 (1986)
Forest Fields Peace Group Newsletter Vol:05 #05 (1986)
Forest Fields Peace Group Newsletter 1987/07
Forest Fields Peace Group Newsletter 1987/11
Forest Fields Peace Group Newsletter 1988/03a
Forest Fields Peace Group Newsletter 1988/03b
Forest Fields Peace Group Newsletter 1988/04
Forest Fields Peace Group Newsletter 1988/06
Forest Fields Peace Group Newsletter 1988/07
Forest Fields Peace Group Newsletter 1988/09
Forest Fields Peace Group Newsletter 1989
Grass Roots & Nottingham Voice
Grass Roots #03 (1974)
Grass Roots #04 (1974)
Grass Roots #06 (1974)
Grass Roots #07 (1974)
Grass Roots #09 (1974)
Grass Roots #11 (1974)
Grass Roots #12 (1974)
Nottingham Voice #14 (1975)
Nottingham Voice #15 (1975)
Nottingham Voice #16 (1975)
Nottingham Voice #17 (1975)
Nottingham Voice #18 (1975)
Nottingham Voice #19 (1975)
Nottingham Voice #20 (1975)
Nottingham Voice #21 (1975)
Nottingham Voice #22 (1975)
Nottingham Voice #23 (1975)
Nottingham Voice #24 (1976)
Nottingham Voice #25 (1976)
Nottingham Voice #26 (1976)
Nottingham Voice #27 (1976)
Nottingham Voice #28 (1976)
Nottingham Voice #29 (1976)
Nottingham Voice #30 (1976)
Nottingham Voice #31 (1976)
Nottingham Voice #32 (1976)
Nottingham Voice #33 (1976)
Nottingham Voice #34 (1976)
Nottingham Voice #35 (1976)
Nottingham Voice #36 (1976)
Nottingham Voice #37 (1976)
Nottingham Voice #38 (1976)
Nottingham Voice #39 (1976)
Nottingham Voice #40 (1976)
Nottingham Voice #41 (1976)
Nottingham Voice #42 (1976)
Nottingham Voice #43 (1976)
Nottingham Voice #44 (1976)
Nottingham Voice #45 (1976)
Nottingham Voice #46 (1976)
Nottingham Voice #47 (1976)
Nottingham Voice #48 (1976)
Nottingham Voice #49 (1976)
Nottingham Voice #50 (1976)
Nottingham Voice #51 (1976)
Nottingham Voice #52 (1976)
Nottingham Voice #53 (1976)
Nottingham Voice #54 (1976)
Nottingham Voice #55 (1976)
Nottingham Voice #56 (1977)
Nottingham Voice #57 (1977)
Nottingham Voice #58 (1977)
Nottingham Voice #58 - Special Supplement (1977)
Nottingham Voice #59 (1977)
Nottingham Voice #60 (1977)
Nottingham Voice #61 (1977)
Nottingham Voice #62 (1977)
Nottingham Voice #63 (1977)
Nottingham Voice #64 (1977)
Nottingham Voice #65 (1977)
Nottingham Voice #66 (1977)
Nottingham Voice #67 (1977)
Nottingham Voice #68 (1977)
Nottingham Voice #69 (1977)
Nottingham Voice #70 (1977)
Nottingham Voice #71 (1977)
Nottingham Voice #72 (1977)
Nottingham Voice #73 (1978)
Nottingham Voice #74 (1978)
Nottingham Voice #75 (1978)
Nottingham Voice #76 (1978)
Nottingham Voice #77 (1978)
Nottingham Voice #78 (1978)
Nottingham Voice #79 (1978)
Nottingham Voice #80 (1978)
NAFA Newsletter
Unity NAFA #01 (1993)
Unity NAFA #02 (1993)
NAFA Newsletter 1993/11-12
NAFA Newsletter 1994/02
NAFA Newsletter 1994/03-04
Ned Ludd's News
Ned Ludd's News #06.1 (1998)
Ned Ludd's News #07 (1998)
Ned Ludd's News #08 (1998)
Ned Ludd's News #09 (1998)
Ned Ludd's News #10 (1998)
Ned Ludd's News #11 (1998)
Ned Ludd's News #12 (1999)
Newsletter of the Nottingham Animal Liberation Front
Newsletter of the Nottingham Animal Liberation Front #?? (1985)
Newsletter of the Nottingham Animal Liberation Front #03 (1985)
Newsletter of the Nottingham Animal Liberation Front #04 (1986)
Nott FIN
Nott FIN #01 (1992)
Nott FIN #02 (1992)
Nott FIN #03 (1992)
Nott FIN #04 (1992)
Nott FIN #05 (1992)
Nott FIN #06 (1992)
Nott FIN #07 (1993)
Nott FIN #08 (1993)
Nott FIN #09 (1994)
Nott FIN #10 (1994)
Nott FIN #11 (1995)
Nott FIN #12 (1996)
Nott FIN #13 (1997)
Nottingham Agitator
Nottingham Agitator #02 (1988)
Nottingham Agitator #03 (1988)
Nottingham Agitator #04 (1988)
Nottingham Agitator #05 (1989)
Nottingham Anarchist News
Nottingham Anarchist News #01 (1985)
Nottingham Anarchist News #02 (1985)
Nottingham Anarchist News #03 (1985)
Nottingham Anarchist News #04 (1985)
Nottingham Anarchist News #05 (1986)
Nottingham Anarchist News #06 (1986)
Nottingham Anarchist News #07 (1986)
Nottingham Anarchist News #08 (1986)
Nottingham Anarchist News #09 (1986)
Nottingham Anarchist News #10 (1986)
Nottingham Anarchist News #11 (1987)
Nottingham Anarchist News #12 (1987)
Nottingham Anarchist News #13 (1987)
Nottingham Anarchist News #14 (1987)
Nottingham Anarchist News #15 (1987)
Nottingham Anarchist News #16 (1987)
Nottingham Anarchist News #17 (1988)
Nottingham Anarchist News #18 (1988)
Nottingham Anarchist News #19 (1988)
Nottingham Anarchist News #20 (1989)
Nottingham Bulletin
Nottingham Bulletin 1979/04 #01 (1979)
Nottingham Bulletin 1979/06 #02 (1979)
Nottingham Bulletin 1979/08 #03 (1979)
Nottingham Bulletin 1979/10 #04 (1979)
Nottingham Bulletin 1980/01-02 #05 (1980)
Nottingham Bulletin 1980/12 #?? (1980)
Nottingham Bulletin 1981/Summer #?? (1981)
Nottingham Bulletin 1982/05 #13 (1982)
Nottingham CND Bulletin
Nottingham CND Bulletin 1982/06 (1982)
Nottingham CND Bulletin 1983/02 (1983)
Nottingham CND Bulletin 1983/04 (1983)
Nottingham CND Bulletin 1983/05 (1983)
Nottingham CND Bulletin 1983/09 (1983)
Nottingham CND Bulletin 1983/11 (1983)
Nottingham CND Bulletin 1984/04 (1984)
Nottingham CND Bulletin 1984/05 (1984)
Nottingham CND Bulletin 1984/08 (1984)
Nottingham CND Bulletin 1984/09 (1984)
Nottingham CND Bulletin 1985/05 (1985)
Nottingham CND Bulletin 1985/07 (1985)
Nottingham CND Bulletin 1986/01 (1986)
Nottingham CND Bulletin 1986/07 (1986)
Nottingham CND Bulletin 1986/08 (1986)
Nottingham CND Bulletin 1986/10 (1986)
Nottingham CND Bulletin 1986/12 (1986)
Nottingham CND Bulletin 1987/02 (1987)
Nottingham CND Bulletin 1987/08 (1987)
Nottingham CND Bulletin 1988/02 (1988)
Nottingham Extra
Nottingham Extra #01 (1985)
Nottingham Extra #02 (1985)
Nottingham Extra #04 (1986)
Nottingham Extra #06 (1987)
Nottingham Extra #07 (1987)
Nottingham Extra #08 (1987)
Nottingham Hunt Sabs
Nottingham Hunt Sabs #02
Nottingham Hunt Sabs #03 (1988)
Nottingham Resurgence
Nottingham Resurgence #01 (1986)
Nottingham Resurgence #02 (1987)
Nottingham Resurgence #03 (1987)
Nottingham Women's Diary
Nottingham Women's Diary #01 (1981)
Nottingham Women's Diary #02 (1981)
Nottingham Women's Diary #03 (1981)
Nottingham Women's Diary #06 (1981)
Poll-Axe
Poll-Axe #01 (1989)
Poll-Axe #02 (1989)
Poll-Axe #03 (1989)
Poll-Axe #04 (1990)
Poll-Axe #05 (1990)
Poll-Axe #06 (1991)
Poll-Axe Special Issue (1991)
The Nottingham Sparrow
The Nottingham Sparrow #01 (2007)
The Nottingham Sparrow #02 (2007)
The Nottingham Sparrow #03 (2008)
The Nottingham Sparrow #04 (2010)
Women Now
Women Now Vol:?? #?? (1975)
Women Now Vol:?? #??
Women Now Vol:01 #06